A 4-star campsite

for your holidays

Discover the campsite

on video Play

The perfect campsite

for all the family

In the middle of nature

and surrounded by woodland

Welcome to the Dordogne

near the Lascaux caves
Opening dates

Rented accommodation is open from 11/04 to 30/09

Pitches for tents, caravans and motorhomes are open from 15/05 to 30/09
4-star campsite La Castillonderie, in the heart of Périgord Noir, near Lascaux cave
Our 4-star family campsite of 72 sites welcomes you in a green setting, just 7 kilometers from Montignac.
Ideally located in the heart of the Vézère valley, you will quickly be on the biggest sights of Périgord Noir in the Dordogne.
Come to La Castillonderie with your family for peaceful Nature holidays and enjoy the many hiking trails from the campsite, or even enjoy a moment of relaxation while fishing in our private lake.
Cyril & Edwige offer a warm and friendly welcome, with advice according to your needs, a tour of the campsite and installation on your pitch.
Pitches and rentals
At our nature 4-star campsite surrounded by woods you will find spacious, shady pitches, suitable for tents or caravans, but also a large selection of rentals:  tent , mobilhome, traditional Perigord cottage.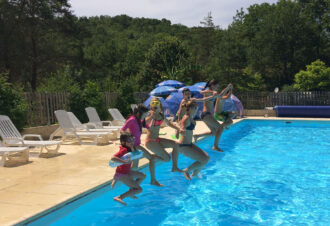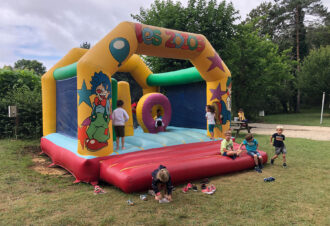 The perfect 4-star campsite for the whole family
Heated swimming-pool, games, animation, sightseeing,… there are activities for all ages ! As well as a snack bar for food lovers !
There is WiFi FREE on the whole campsite.
Fishing pond on site on the 4-star campsite
For those who love fishing in the middle of nature.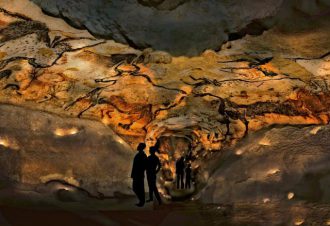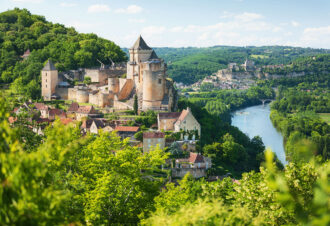 Perfectly located near Montignac
Ideally located in the heart of the Vézère valley, you will quickly be on the biggest sights of Périgord Noir in the Dordogne.
The Vézère Valley
The Vézère valley is famous for its many prehistoric caves (Lascaux, grotte originelle de Rouffignac, Fond de Gaume, Le grand Roc…), its most beautiful villages of France (Sarlat, Saint Léon sur Vézère, Saint Amand de Coly …) and of course the international capital of Prehistory; Les Eysies.
The Perigord Noir, it is also its 1001 castles like  La "Maison forte" de Reignac, the casttle of Losse,  or on the valley of the Dordogne : the médieval casttle of Castelnaud, in Beynac.
Lovers of nature : you will enjoy the modern or traditional gardens (Marqueyssac, jardin de l'imaginaire de Terrasson, jardin d'eau, jardin d'Eyrignac).
It's also a good idea to taste the specialties of the Perigord like duck, walnuts, truffles and strawberries. You could take a glass of wine form Bergerac or Montbazillac.
Montignac and the caves of Lascaux in Montignac
Montignac and Lascaux, in the midde of the Dordogne but still close to campside la Castillonderie.
It's impossible to go to Montignac without visiting the caves of Lascaux. In the caves, you will discover the history of the Cro-magnon, using new digital techonologies whereby you have the illusion to live in the Medieval.
Montignac is a city which is an architectural heritage and has a lot of history. Discover the city and you'll learn about Montignac and its history.
By taking a walking tour you can visit old monuments, like  la Maison Duchêne, le Prieuré, l'hôpital St Jean, le château médiéval .  Or places like le square, la rue de la Pagésie en les abords de la Vézère
In the city you can also find local shops like the bakery, the pharmacy, a supermarket and several other shops. You can relax while visiting the different restaurants to drink something and it's also possible to watch a movie or to play minigolf.
A natural setting, very pleasant, with its open spaces. An attentive welcome by a very warm team (…) A real place of relaxation!

ElodieB.

In the heart of a pretty valley, calm and tranquility are essential.
The owners, very friendly and welcoming, are unfailingly available.
A real family campsite for families.
(something rare and noticed, the barrier that closes the terrace of our mobile home, ideal when the youngest or the doggie has his mother want to go on an adventure..)

Lemoine Stéphane