Discover all the activities and entertainment of the campsite:
The swimming pool
Come and enjoy a swim in our large  heated pool (16 x 8 m) and if you want to relax, we have sun beds available for you. The swimming pool is open from Mai 15th to September 15th .
POOL AT NIGHT once a week, depending on the weather.
Small children can enjoy themselves in one of the 2 paddling pools (depth 20 cm and 40 cm). For the hygiene of everyone, only swimming suits and boxers are allowed.
Activities and animations
Children can have fun in our new playground, on the inflatable playground "Zozos" or they can join the kid's club in the morning (animator from 17th July till 18th August). In the afternoon and the evening sports activities such as water games, water polo, table tennis,  archery… At the end of the day, mini-disco for the little ones. Occasionally we organize various animations on the evening (musical evenings, bingo, foot parents against children…)
A volleyball and badminton field  and Ping-Pong table are present.
At the campsite you will find a toy library, a library and a private pond.
We organize themed evenings (Perigordine, mussels, pancakes…).
During the season, the passage of a circus.
We will transmit sports events on a large screen with a video-projector and home cinema to get the mood going.
This beautiful area offers many hiking opportunities from the campsite (GR36 at 400m), with a file with routes available for you at the campsite or visit the tourist office website. Whether by car, motorcycle or bicycle, you will discover beautiful landscapes and can go for many trips.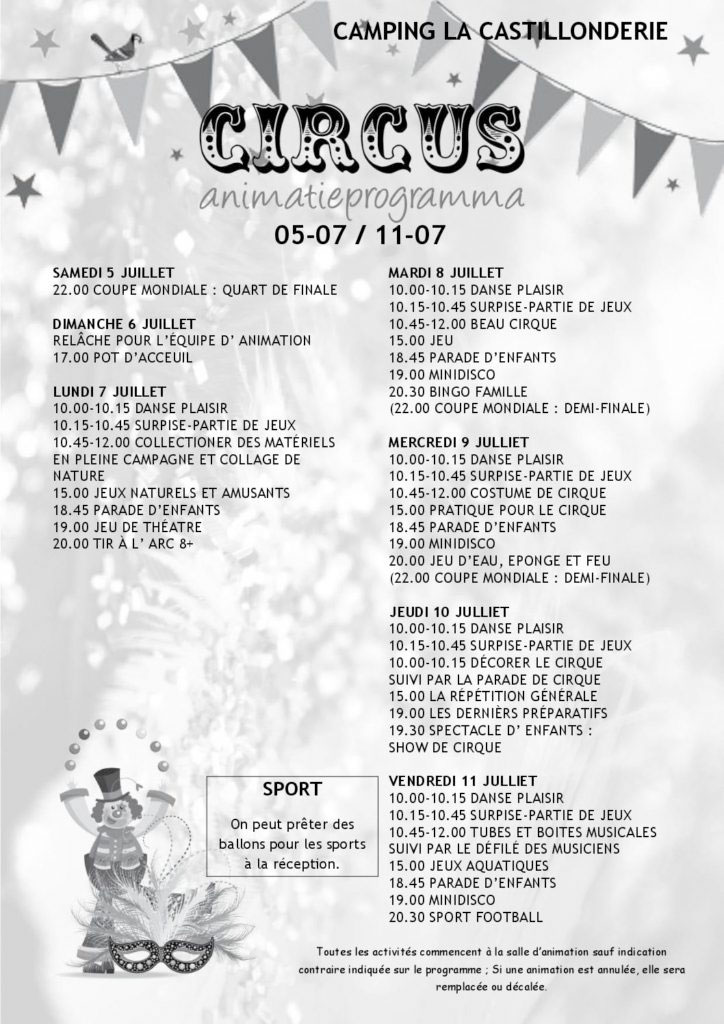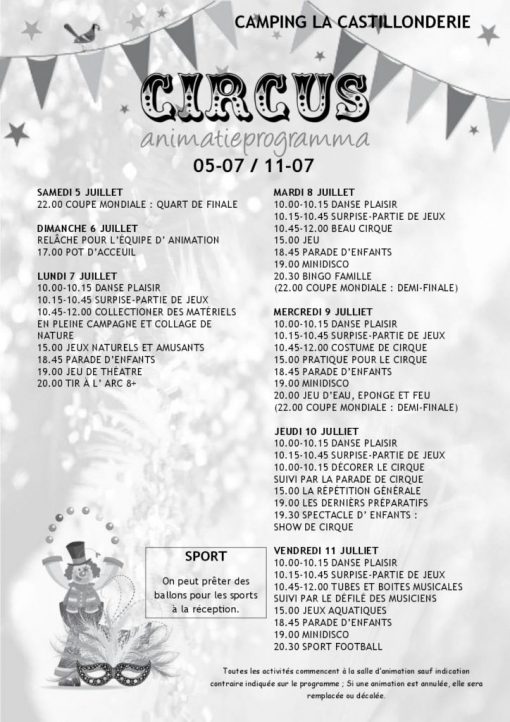 Events, shows 2023
Monday 17 july
Monday 24 july
Monday 31 july
Monday 7 august
Monday 14 august
Monday 21 august

Musical evening

 Musical evening

Musical evening

Musical evening

Musical evening

Musical evening

Gamblin
Outside
Fond of sports, you can rent canoes on the Vézère, do mini-golf in Montignac (9km), hang gliding in St Léon-sur Vezere (5km) or horse riding in Sergeac (3km) tree climbing in Thenon (20km).
You can swin a recreation lake In Tamniès (12km)  or in the river in Tursac.
We also highly recommend you to visit 'le Thot' (prehistoric animal park and animations 800m), the Château de Losse in Thonac (3km) or Maison forte de Reignac (cliff castle) in Tursac (13km), to go to the dance and music festival in Montignac or the Périgord noir festival in Sarlat.
You can also discover the most visited sites of the Dordogne: the Lascaux caves (10km) with its prehistoric and world famous paintings and La Roque St Christophe (10km) with its cliffs and caves dating back to prehistoric times.
You will enjoy strolling through the villages classified as most beautiful in France such as Saint Léon-sur-Vézère (6km) and Saint Amand de Coly (18 km).
Remember to check our " Dordogne" to prepare your stay.
There is a weekly market on Saturdays and Wednesdays in Montignac. In July and August, there are also night markets of local producers with possibility to enjoy a meal; Monday nights in Montignac, Thursdays in Saint Léon-sur-Vézère and Fridays in Valojoulx (5km).
There are also many flea markets in the region during the summer months.